Want to learn more before you become a member? Meet us in person at one of our Discover Girl Scouts events. Click here to view the full list! 
When you unleash your inner G.I.R.L., you can accomplish anything!
At Girl Scouts, the next opportunity to stand up, speak up, and take the lead is never far away. With us, you'll discover the G.I.R.L. (Go-getter, Innovator, Risk-Taker, Leader)™ in you, and watch her shine, again and again.
Will you find a sustainable solution to a problem in your community? Will you explore the great outdoors? Build a robot? Learn to code? Conduct an experiment?
With us, the possibilities are truly endless. Discover all you can be and everything you can accomplish when you have the right tools and a safe space to shine—and work together to change the world. 
So what are you waiting for?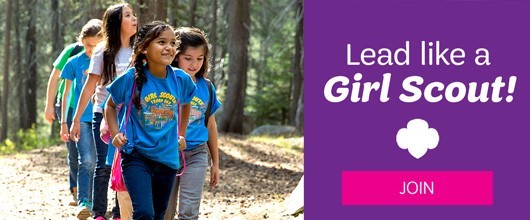 A NOTE ABOUT CO-ED SCOUTS : The Girl Scouts is a completely different organization than the Boy Scouts, and we do not share programming. Boy Scouts has decided to change the name of one of their programs to Scouts BSA and has adopted the generic term "scouting" on its marketing materials. Do not be confused. The Girl Scouts also are scouts. With time-honored, data-backed insight into the needs and interests of girls, Girl Scouts is raising confident, independent, and successful young women in an environment of inclusion, safety, civic action, and fun. Camping, adventure seeking, and exploring the outdoors are all cornerstone experiences girls have at Girl Scouts. And we offer so much more, because our programming is always evolving to meet girls in today's world.