Take the Lead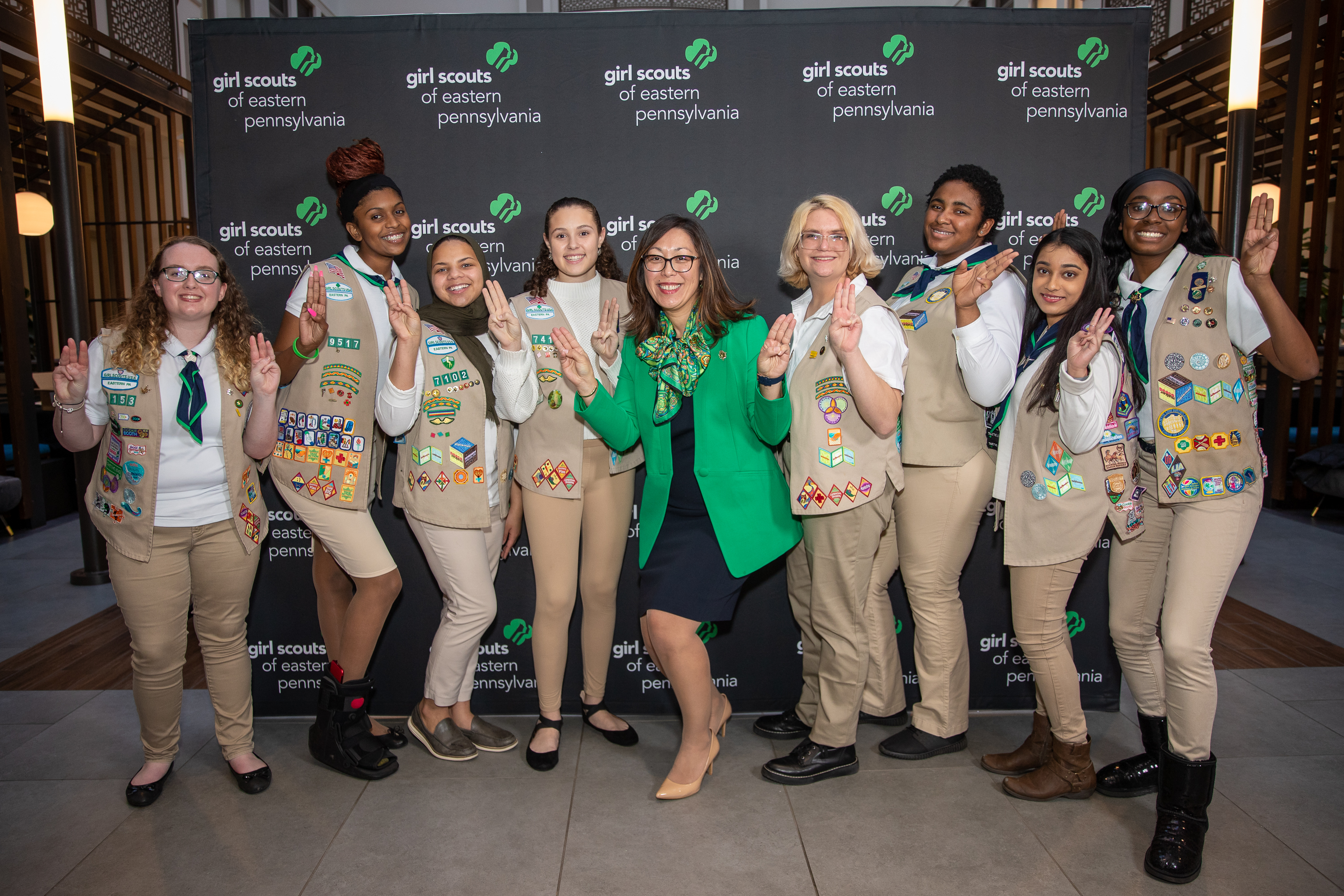 Take the Lead 2021 Events  
TAKE THE LEAD supports the phenomenal work that Girl Scouts of Eastern Pennsylvania (GSEP) is doing to give every girl the opportunity be a part of the Girl Scout Leadership Experience (GSLE) throughout our nine-county footprint.  As GSEP's signature fundraising event, Take the Lead is an event for the girls, by the girls.
Our 2021 Take the Lead honors incredible women leaders from our community who are the positive role models our girls need today. They inspire girls everywhere and provide them with the courage, confidence, and character necessary to make the world a better place. Check out our Press Release Announcement on our Newsroom page linked here.
2021 Greater Philadelphia
Save the Date

Tuesday, March 2, 2021 – Virtual Gala

Honorees

Dona File

Corporate Safety Director
L.F. Driscoll

Nicole Marquis

Founder & CEO
HipCityVeg

Charmaine Spence Rochester DHA, CPA, FACHE, FHFMA

Chief Financial Officer
Penn Medicine Lancaster General Health

Leslie Stiles

Board President
Pennsylvania Conference for Women

Sponsors

Committee

Philadelphia Committee


Co-Chairs:
Jackie Cuddeback
Philadelphia Phillies

Hilary Hannan Saylor
Stradley Ronon

Vice Chairs:
Deborah Hassan
Deloitte, Ret.
Chair, Board of Directors

Kim E. Fraites-Dow
Girl Scouts of Eastern Pennsylvania
Chief Executive Officer

Terri Boyer
Villanova University

Rev. Bonnie Camarda
The Salvation Army

Clare Freimuth
BB&T

Irene Horstmann Hannan
Faith in the Future

Rosella Harvey
NorthStar Owners Representation

Kathy Killian
Philadelphia Phillies

Charisse R. Lillie
CRL Consulting LLC

Rev. Dr. Lorina L. Marshall-Blake
Independence Blue Cross

Cindy Matje
Citizens Commercial Bank

Cathy Engel Menendez, APR
Community Volunteer

Hon. Diane M. Welsh (Ret.)
JAMS

Dalila Wilson-Scott
Comcast

Alex Wysocki
Blank Rome, LLP

Digital Program Booklet
Save the Date

Tuesday, April 6, 2021– Virtual Gala

Sponsorships & Tickets

Honorees

Kristin Boyd Edwards

Director of Communications
Reading School District

Susan Denaro

Attorney
Georgeadis Setley

Jacquelyn S. Fetrow, Ph.D.

'82 President of Albright College
Professor of Chemistry and Biochemistry

Debra Powell, MD, MS

Chief, Division of Infectious Diseases & Medical Director of Infection Prevention
Tower Health Reading Hospital

Sponsors

Committee

Berks Committee

Co-Chairs:
Karen Marsdale
Greater Reading Chamber Alliance, Ret.

Michele L. Richards
Fulton Bank

Vice Chairs:
Carey Babczak
BB&T

Paula Barrett
RKL LLP

Linda Bloom
Tower Health

Jodi Corbett
Reading Area Community College

Mike Duff
Penske Truck Leasing

Loni Francis
Tower Health

Kristi Gage
Gage Personnel

Pat Giles
Community Volunteer

Crystal Gilmore Harris
Reading School District

Mary Lou Kline
Security First

Jerry Marcus
Community Volunteer

Mary Ann Moffitt
First National Bank

Jennie Rodriguez Priest
Stevens & Lee

Trish Shermot
Visions Federal Credit Union

Alison Snyder
East Penn Manufacturing 


Support Camperships!

Digital Program Booklet
Save the Date

Wednesday, April 28, 2021– Virtual Gala

Sponsorships & Tickets

Honorees

Senator Lisa Boscola

State Senator
18th District

Victoria Brifo

Senior Vice President & Chief Human Resource Officer
Air Products

Fusun Bubernack

President
ET&T

Lin Erickson

Executive Director & CEO
Da Vinci Science Center

Deborah Sundlof, DO

Cardiologist, Lehigh Valley Heart Institute, Co-Director of the Women's Heart Program & Cardio-Oncology Programs and Physician Medical Director Regional Heart, LVH-Muhlenberg

Sponsors

Committee

Lehigh Valley Committee

Chair:
Stephanie Sherry
Olympus

Vice Chairs:
Anne Baum
Capital BlueCross

Amy Beck
Lehigh Valley Center for Independent Living

Marlene Beers
PPL

Marilee Falco
Agili

Deborah Fries-Jackson
Boys & Girls Club of Allentown

Pam Lott
Past GSEP Board Member

Krista Ortwein
Olympus

Beverly Pesaresi
Fulton Bank

Ashley Russo
ASR Media

Laurene Ryan
Community Volunteer

Bev Saunders
LV Phantoms

Michelle Sorgi
GSEP Troop Leader & Service Unit Registrar

Ron Ticho
Advance MarCom Strategies

Support Camperships!

Raffle Donations
Take the Lead 2020 Events
Take the Lead 2020 was a unique year, with the COVID-19 Pandemic.  Only Take the Lead Philadelphia was able to take place, while the Take the Lead Berks and Lehigh Valley were canceled.  Though these events were canceled, the spirit of these events was not lost.  Our incredible sponsors stepped up their support and reaffirmed their commitment to our girls.  All of our honorees had the opportunity to mentor a high school Girl Scout, one of the unique leadership programs Take the Lead offers.  Explore below our 2020 events and learn what our girls have to say about their Take the Lead experience.
2020 Greater Philadelphia
Honorees

Mary Stengel Austen

President & CEO
Tierney

Save the Date

Tuesday, March 2, 2021 – Virtual Gala

Sponsorships & Tickets

Honorees

Stay tuned for our 2021 honorees!

Sponsors

Stay tuned for our 2021 sponsors!

Dr. Brandi Baldwin

Founder & CEO
Millennial Ventures Holdings

Sophia Lee

Partner & Chief Diversity Inclusion Officer
Blank Rome

Eileen McDonnell

Chairman & CEO
The Penn Mutual Life Insurance Company

Sponsors
Honoree Video

Carolyn M. Bazik, MBA

Executive Director
Co County Wellness Services

Susan Fromm

Community Advocate

Dr. Susan D. Looney

President
Reading Are Community College

Dr. Vinti Shah

Chief, Palliative Medicine and Chair, Ethic Committee
Tower Health

Sponsors
Honoree Video

Judge Kelly Banach

Judge
Lehigh County Court of Common Pleas

Carol Obando-Derstine

Regional Affairs Director
PPL Electric Utilities

Marilee Falco, CFP, CHFC

Principal and Financial Strategist
Agili

Dr. Teri Haddad, Ed.D

CEO/Owner, eMedia Works, and VP Community Early Learning Intiatives
Community Services for Children

Sponsors
For any questions please contact:             
Nina Harmon
Signature Events & Development Manager
nharmon@gsep.org
267-422-2533