Work at Camp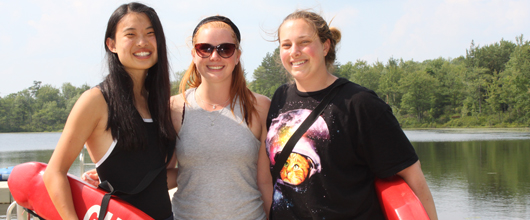 We want YOU to help make this year's summer camp an experience our girls will always remember! Work at any of our four resident or three day camps and make a positive impact on girls all summer long.
Apply now to work at camp this summer!
We have many jobs available to fit different interests, ages, and levels of experience:


Food Service Professional

Adventure Instructor or Manager





Environmental Education Specialist

Horseback Riding Instructor or Manager





Unit Leader (camp counselor)


 "Camp is my happy place. The campers have taught me thousands of lessons, and it has made me the person I am today." ~Camp Valley Forge Staff Member
"I love working with children in a place where the philosophy includes leading by action. After doing volunteer childcare where the general rule was "watch, don't participate, don't interact," being able to work, talk, and play directly with the kids is amazing. You can truly see a difference in their confidence and their enthusiasm." ~Camp Mosey Wood Staff Member
"I enjoy seeing all of the new girls arrive as strangers not only to other campers but to the staff as well and leaving a week or two later with lifelong friends and experiences that I helped make possible. Having the kids introduce their parents to me on a Friday night would make me feel that I made an impact on that girls experience at camp and there's no greater feeling" ~Camp Mosey Wood Staff Member
We have a particular need for trained medical personnel and experienced food service professionals to join our team as camp nurses and cooks at all of our resident camps! 
GSEP Resident Camps:
Camp Laughing Waters, Gilbertsville, PA
Camp Mosey Wood, White Haven, PA
Camp Shelly Ridge, Miquon, PA
Camp Wood Haven, Pine Grove, PA
GSEP Day Camps
Camp Mountain House, Allentown, PA
Camp Shelly Ridge, Miquon, PA
Camp Valley Forge, Valley Forge, PA